Conference Room Lighting Case
Conference Room Lighting Case 6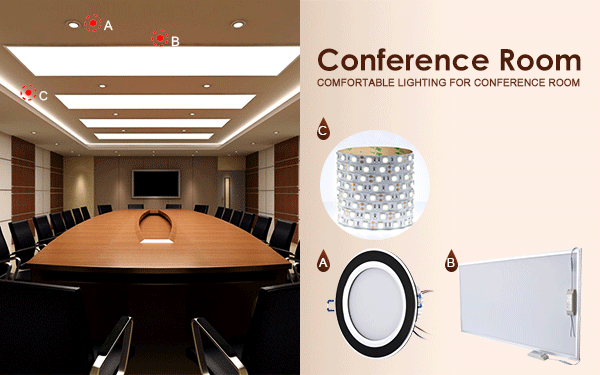 Comfortable Lighting For Conference Room
Considering the simple design lighting for the modern conference room? The modern space with exquisite design light fixture is helpful for great thinking and ambitious dreams at your conference room. The Dimmable LED Down Lamp are even-distributed in the whole ceiling, emitting bright and soft downward lighting to the space and meeting table.

On the middle of the ceiling are several large size 72W LED Panel Light, acting as the main lighting for the modern conference room. It has large luminous surface, SMD light source and high efficient PMMA light plate. These excellent materials make it emits soft and even lighting.

Surrounding is the LED Flexible Strip 60W for outline lighting. Its soft and natural lighting adds some kind of relaxing and warm atmosphere for the serious conference.