Garden Lighting Case 02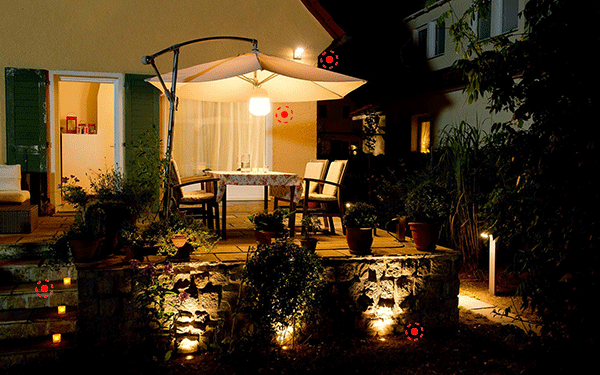 Wonderful Lighting Enrich Your Garden Landscape
Comfortable and bright lighting will add a lot charming for the garden. In this beautiful garden , the LED solar roof light is mounted on the wall to illuminate the garden space. The build-in battery solar LED light does not need to consume any electric energy. With a IP44 waterproof rating, it is safe for outdoor use. Wall mount installation is easy and simple.

On the platform, the LED Under ground Light add indirect lighting. It is an IP67 product for outdoors use. The Stainless Steel and quality lens ensure it is durable for under ground installation.

On the stairs, LED solar wall light can be perfectly mounted. It is a build-in battery solar light with a IP65 protection degree. The sensor light-operated wall light can save energy consumption for daily lighting.

And the main lighting is a E27 LED Corn Bulb pendant light which can emit 1600lm brightness for the garden space. The 260 degree beam angle warm white lighting is soft and bright for the space.