Kitchen Lighting Case 6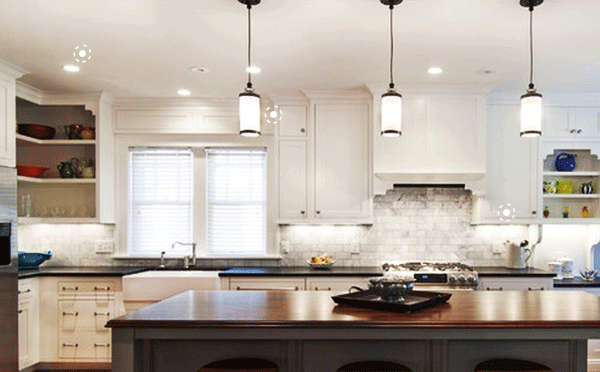 Bright Lighting For Your Kitchen Time
Perfect lighting distribution for Open Kitchen, with stylish collection of LED Down Lamp, Pendant light, Spot Bulb and Flexible Strip. Try this interior design in your own household application, now!

This LED Down Lamp is perfect for household lighting, with its bright Natural White lighting, especially in the kitchen or dining room. And High Power LED chips (12 pieces) could ensure its uniform and soft illumination.

In the middle of this Kitchen, there are three pendant lamps side by side, which is the best matching of LED Pendant Light and LED PAR20 Spot Bulb. This modern European style is simple and stylish, with lampshade protection. Moreover, the spot bulb could direct the kitchen table for best lighting. And its Natural White light is dimmable.

Behind the cabinets, we can choose the Waterproof LED Flexible Strip to add the side lighting. And its White light offer the clear and clean environment to this whole kitchen. And it's can be easily installed and cut according to the personal needs.